couts indicate that summer camp is more than just a place to have fun. It also


offers Scouts the opportunity to participate in physically and intellectually challenging activities, introduces them to new and rewarding experiences, and provides them with supportive and caring relationships [16].
Structure

The Boy Scouts is a global phenomenon founded in England in 1908 by Lord Robert Stephenson Smythe Baden-Powell.  Many countries around the world have Boy Scouting organizations.  The Boy Scouts of America was formed in 1910.  

The BSA is broken down into four Regions which are further 

broken down into local Councils.  There are seven Boy Scout 

Councils in Wisconsin.  Most BSA Councils own and operate at 

least one Camp facility.  Many Councils operate several camping 

facilities which are used for different purposes.  This study 

compares the Camp facilities used for long term Summer Camp 

programs for the older Scouts age 11-20.

Although there are seven Councils located in Wisconsin, the 

situation of the state in reference to the abundant northwoods 

has created an opportunity for Wisconsin Boy Scouts to experience camp life at 
twelve
 Boy Scout Camps.  Camp properties are owned not only by Scouting Councils within Wisconsin but also Illinois and Minnesota.
Camps

The best way to evenly compare camps is to examine the differences and similarities in their Summer Camp program.  A 
comparison
 of Camp Programs shows that these camps are similar in many ways.  All of the camps offer the opportunity for the Scouts to earn Merit Badges (Merit Badges are the second main area of the Boy Scout advancement program. Unlike ranks, there is a degree of choice in the merit badge program).  
A good Summer Camp program will include waterfront facilities to experience activities such as swimming, canoeing and boating.  Shooting sports should be available in both a rifle range and archery range, staffed by specially trained Counselors.  A well-staffed Nature Center will allow Scouts to experience plants and animals up close.  Perhaps through these nature programs, a Scout may learn that he loves reptiles, has great concern about pollution or water conservation.

Summer Camps will offer different options for camping.  Camps such as Camp L.E. Phillips have cabins as opposed to tents that the majority of camps use.  Most Scouts camp in heavy canvas wall tents while at summer camp.  Some Troop will bring their own light weight tents (See Figure 1 [17]).

The condition of the facilities seems to vary between the camps.  

Some camps have brand new facilities such as Camp Decorah, 

while others offer a much more primitive camping experience 

which is favored by many Scoutmasters.

Two camps in Wisconsin operate swimming pools for the 

swimming experience at Summer Camp.  Both Camp Decorah 

and Camp Indian Trails do not have lakes for swimming.  Most of the camps have the same lakefront facilities offered to Scouts 100 years ago.

The subject of food is a topic that does provide some differences between Boy Scout Camps.  When Troops started sending their Scouts to Summer Camps in the 1930s, the Councils recognized that this was a opportunity to teach backwoods cooking skills in a dedicated setting, away from the conveniences of the modern world.  Scouts prepared their own food via the Patrol Method. (each Scout taking turns cooking and cleaning up after the meals for his Patrol).  Two camps still maintain this Patrol Method of cooking and separates them from the rest of the camps.  Robert S. Lyle Scout Reservation and Camp Freehand Leslie are "Patrol Cooking Camps".  All of the camps in Wisconsin will allow a Troop to cook Patrol Method if the Scoutmaster prefers, but most encourage Troops to eat in their Dining Hall.  Camp Lyle recently added the option of a Dining Hall experience.





Older Scouts look forward to High Adventure opportunities at




Summer Camp.  All of the Camps offer some type of High Adventure




camping experience.  Backpacking treks, canoe treks, rock




climbing and kayaking are some of the opportunities that camps




offer for High Adventure.  Some camps have Climbing Walls and




C.O.P.E. courses (see Figure 2 [18]).  Roughly one half of the camps




offer at least one or the other.  
Parents send their sons to Summer Camp for many reasons.  One of the main reasons is for their sons to earn Merit Badges which are needed for rank advancement.  The quantity of Merit Badges offered at the twelve summer camps varies.  Tomahawk Scout Reservation offered 30 Merit Badges in their 2010 Summer Camp program while Robert S. Lyle and Camp Tesomas offered as many as 53.



Conclusion

The twelve Boy Scout Camps across Wisconsin are similar in many ways.  The differences seem to center around the food service and high adventure facilities.  

Robert S. Lyle Scout Reservation offers traditional Patrol Method cooking and is different from the other camps in several ways.  The camp has no C.O.P.E. course nor climbing tower to entice the older Scouts to attend Summer Camp.  But the 53 Merit Badges offered at camp give the Scout's parents a very good reason to send him to camp at Lyle.

The Southeast Wisconsin Council office has been informed by the BSA that they must merge with another Council.  The question that remains to be answered is what will that merger do to the complexity of Scout Camps in Wisconsin and to Robert S.Lyle Scout Reservation in particular?

Research into Benefits of Scout Camps [16]

Harris Interactive , a New York consulting firm, conducted a study in 2001 on the impact of summer camp in the lives of Boy Scouts, Scouters and the parents of Scouts.  The researchers concluded that boys attending summer camp are provided with critical elements of healthy youth development.  

Camps are removed from the hustle and bustle of city life and the distractions of electronic devices.  This nature experience provides an opportunity for significant character development for young men.  At camp, boys have the time to reflect on their role in life; to build on good moral values and build character; to reflect on their own personal values and relationship with God.  At camp, boys can gain a sense of self worth and usefulness.  Most Scouts serve others at camp by participating in service projects, cleaning campsites, preparing and serving food.

Camp is a time to interact in a positive way with adult role models and mentors.  According to the Harris report, 76 percent reported receiving compliments for adult leaders and 72 percent form their peers.  Caring and nurturing life-long relationships are formed at summer camp.  According to the study, most Scouts made new friends with someone at summer camp.  Adult leaders develop respect for their youth leaders as the Scouts grow in leadership skills at camp.  Summer Camp is an outdoor classroom.  

Summer Camp must be challenging and fun or the boys do not want to attend.  When fun is coupled with learning , Scouts are motivated to master the skills needed to complete the requirements for Merit Badges.  Summer Camps are structured to encourage ample free time to run, experience and explore.  Boys interact socially in ways that they can not interact in the confines of the city.  

Parents send their Scouts to Summer Camp to earn the merit badges required for rank advancement but also to have fun and learn new skills.  According to the Harris research, 81% of Scouting parents who attend Summer Camp say the camp experience was a positive impact on their son.  The study went on to say that 84% said their son learned personal responsibility at camp.  Ninety six percent would recommend Summer Camp to others.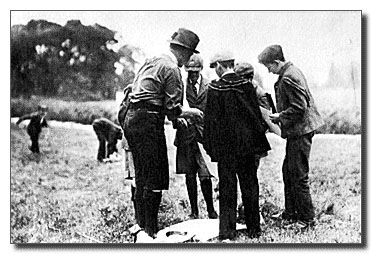 By Roger E. Heffron

3/11/2011

This page was last updated: April 21, 2011